Treatments
Exclusive, luxurious formulas that repair & revitalise
The treatments from the liquid luxury collection are formulated to repair, rejuvenate and revitalise hair leaving it exceptionally soft, silky and hydrated.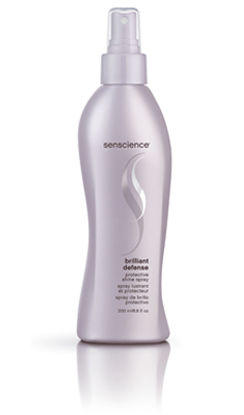 Brilliant Defense
Protective shine spray
This weightless, water-resistant shine spray protects all hair types from sun exposure and environmental damage. Improves lustre, leaving hair with a sensual, luminous finish.
Formulated with a selected blend of sunscreens to protect from harmful UV rays and colour fading while providing conditioning benefits
Eliminates static and frizz
Adds softness
Quick drying, non-greasy formula
Directions:
Spray onto damp or dry hair evenly
Do not rinse
Hold Level 123 4 5
$39.95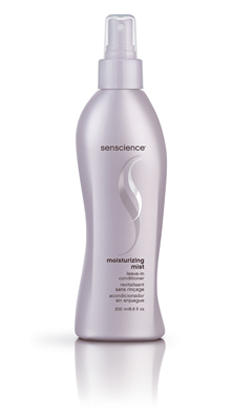 Moisture Mist
Leave-In conditioning spray
A light leave-in conditioning spray that delivers moisture, nourishment and detangling benefits while protecting the hair during heat styling and from sun damage.
Excellent for daily use
Adds body, shine & maintains volume
All day protection for all types of hair
Directions:
Spray onto damp hair, concentrating on split ends and damaged, tangled areas
Comb through, do not rinse
Hold Level 123 4 5
$31.95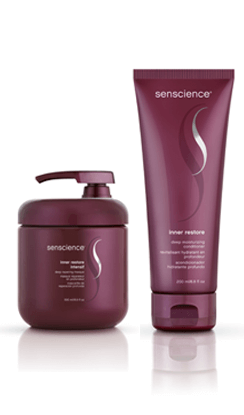 Inner Restore
Deep moisturising conditioner
This creamy conditioning treatment penetrates the hair shaft to help replenish natural protein lost due to environmental stress, heat styling and chemical services.
Strengthens the internal structure of the hair while repairing the cuticle
Leaves hair manageable with a silky soft texture
How to use:
Leave on hair for 2 – 15 minutes depending on the level of conditioning needed
Process with or without heat depending on level of conditioning desired
200ml $32.95
500ml $68.95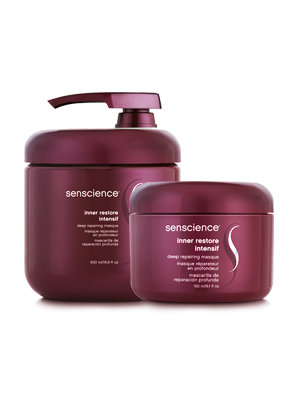 Inner Restore Intensif
Deep repairing masque
Deep repairing treatment leaves thick, coarse and severely damaged hair looking and feeling hydrated, shiny and nourished.
Dramatically improves the condition of hair after the first application
Repairs hair & cuticle
Prevents breakage & split ends
Directions:
Apply evenly on towel-dried hair making sure to reach ends
Leave on 2-5 minutes depending on the level of conditioning needed
150ml $39.95
500ml $85.95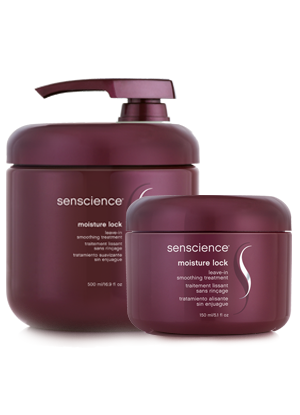 Moisture Lock
Leave-In smoothing treatment
A lightweight, non-greasy hair care treatment enhanced with Vitalock-6 that restores and maintains hair's ideal moisture balance.
Moisture Lock strengthens hair to make it over 7.5 times more resistant to breakage.
Increases shine & manageability
Does not weigh the hair down
Leaves the hair healthy and radiant
Directions:
Divide a small amount (depending on texture, length and density) and avoid the scalp and the roots
Do not rinse
In salon use & for home maintenance
150ml $39.95
500ml $85.95
Renew
Shine serum
Non-greasy, silicone and protein serum that helps hair feel and look renewed by repairing the outer cuticle layer and helping to prevent damage.
Nurtures and protects fragile, dry or brittle hair
Seals hair and mends split ends
Eliminates static and frizz
Use on wet or dry hair
Directions:
Use appropriate Senscience shampoo and conditioner
Dispense 2-5 drops into hands and apply to wet hair, concentrating on damaged ends to help protect from heat styling damage
Follow with Senscience styling
Apply 1-2 drops to dry hair
50ml $39.95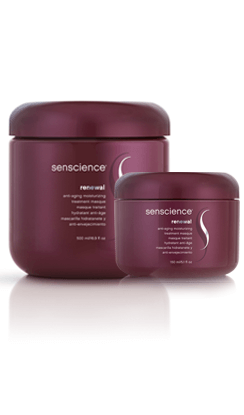 Renewal
Anti-Aging masque
Moisturising anti-aging masque that intensely repairs and nourishes fragile, dry aging hair.
Contains natural oils for their anti-aging properties
Improves shine and softness
Protects against external aggressors
Directions:
Distribute through clean, damp hair
Leave in for up to 5 minutes, rinse and style as desired
150ml $39.95
500ml $85.95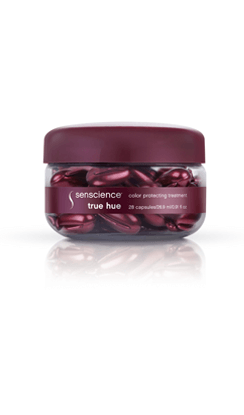 True Hue Capsules
Colour protecting treatment
Capsulated in small beads, this unique treatment helps seal in colour.
Protects hair from UV damage
Keeps hair colour fresh and vibrant
Helps repair the hair and porosity
Directions:
Use appropriate Senscience shampoo and conditioner
Break capsule, work into hands and apply to the hair
$59.95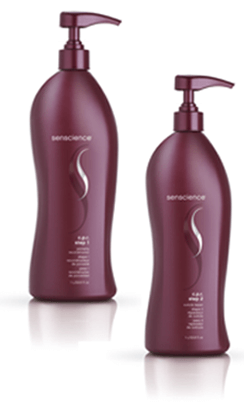 C.P.R.
Cuticle porosity reconstructive treatment
For severely dry/damaged hair. C.P.R. is an intensive in salon restorative treatment that repairs the cuticle porosity deficiencies by replenishing vital nutrients that have been depleted from hair.
Intensive two-step in salon restorative treatment
Fortifies, moisturises and protects hair
Step one: Porosity equaliser
The first step is a unique hair moisturising treatment that is absorbed to increase the elasticity, strength and flexibility from the inside out
Step two: Cuticle repairs
The second step is specially designed to become a substitute for cuticles that have been damaged or removed. It seals in the moisture from step 1, forms a protective layer to the hairs' surface and protects the hair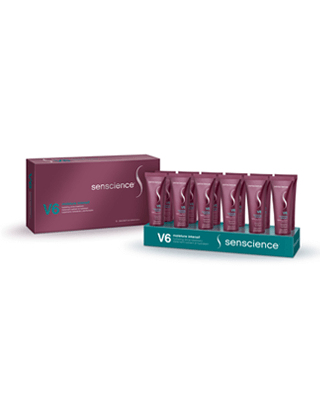 V6 Moisture Intensif
Hydrating shine treatment
In-salon, one-dose treatment to hydrate extremely dry hair.
Deeply moisturisers
Softens hair
Smooths hair
Doesn't weigh down hair
Each pack contains 12 x 25ml unit doses neatly packaged for in-salon use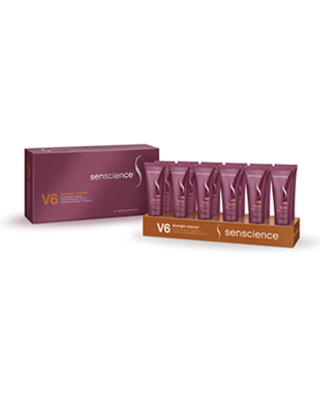 V6 Strength Intensif
Fortifying repair treatment
In-salon one-dose treatment to replenish and rebuild weak, damaged hair.
Protects the hair and reduces breakage cause by styling by over 52%* after just one use
Helps protect the cuticle
Helps improve manageability
Adds shine
Each pack contains 12 x 25ml unit doses neatly packaged for in-salon use
*Against combing breakage on damaged vs. non conditioned hair