i.color
i.color's revolutionary permanent formula guarantees predictable, long-lasting, vibrant colour with 100% natural grey coverage. i.color's comprehensive palette of perfectly balanced shades inter-mix beautifully, encouraging endless creativity so you can produce the exact look your client wants.
i.color's easy to use crème-based formula ensures maximum colour penetration while exclusive Tri-Active Technology nourishes hair with proteins and vitamins to enhance shine and extend colour life.
Added Triplex C,® a patented blend of conditioners, proteins and moisturisers, surrounds each strand with a protective shield sealing colour deep in the hair shaft, while moisturising to balance porosity.
Easy to mix
Intense Ash Series with a grey base for maximum lifting
Superior holding ability
i.color

Permanent conditioning crème colour

Use individual shades or take the opportunity to personalise your formulas With the small but complete shade selection you can be as natural or creative as you want!
Intermixable colours for endless creativity
Intensifiers for strong bright results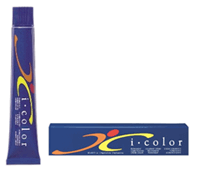 i.color

crème developers

These stabilised crème developers are formulated to work in synergy with the i.color permanent crème colours and lighteners to ensure optimal oxidation during processing. Available in 10 Volume (3%), 20 Volume (6%), 30 Volume (9%) and 40 Volume (12%).
Contains conditioning ingredients
Stabilised formulas for optimal oxidation

i.color

Zer0lift crème developer

A low volume (1.5% / 5 Volume Developer) deposit-only crème developer that extends your options.

Zer0Lift gradually fades out of the hair after 15-20 shampoos, allowing you to offer a demi-permanent colour option.
Deposit-only
Demi-permanent

i.color

active lift

A high-performance dust-free off-scalp lightener designed to provide maximum lift and consistent results while leaving the hair in excellent condition.
Maximum lift
Dust-free
Leaving the hair in excellent condition
For off-scalp use

i.color

powder lightener

Designed for on-or off-scalp use, dust-free i.color Powder Lightener is a gentle yet high performing lightener that offers controlled lift while maintaining hair's optimum condition.
Maximum lift
Dust-free
Leaving the hair in excellent condition
For off-scalp use