Pravana Vivids Hair Art Autumn/Winter Collection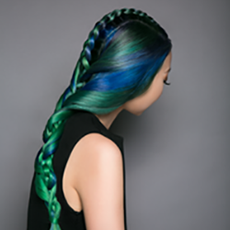 Take your Vivids artistry to the next level by learning unique formulations and advanced techniques that will expand your skills. Transform your creative colour looks from traditional colour to the unique and elaborate works of art.
Liz will demonstrate three essential Pravana Vivids techniques, created by some of the industry's leading creative colourist's: Chevron, Peacock Peak-a-boo and Smoke Stack.
Perfect for : New users
Presented by : Liz Tieu, Salon Support Artistic Educator
Investment : Account holders $350 / Non-account $395
Provided : Lunch, mannequin, workbook and certifcate upon completion
Bring : Styling tools, clips, combs, blow-dryer, irons and coloring apron
10:00am – 5:00pm
When :
MELB
Monday 8th May | Monday 10th July
SYD
Monday 5th June
BRIS
Monday 15th May
ADEL
Tuesday 11th April